Alkaderma® Βee Venom Eyes
natural advanced ultra revitalising and anti wrinkle eye-cream designed for complete skin hydration around the eyes area
Alkaderma® Βee Venom Eyes is a natural advanced ultra revitalising and anti wrinkle eye-cream designed for complete skin hydration around the eyes area. Αlkaderma Bee Venom Eyes combined with Αlkaderma Bee Venom Face ensure holistic skin care.
Use
The harmonious combination of apitoxin in a very high concentration (300ppm) with Alkanna Tinctoria oily extract, collagen, hyaluronic acid, plant extracts and antioxidants contributes to:
erection and radiance in the eye area giving bright, refreshed and timeless beautiful eyes.
wrinkles reduction, tighten and skin regeneration
deep hydration and elasticity
recovery the glow of the gaze and reduce signs of fatigue
the presence of apitoxin and Alkanna Tinctoria oily extract helps in creation of the feeling of "natural lifting"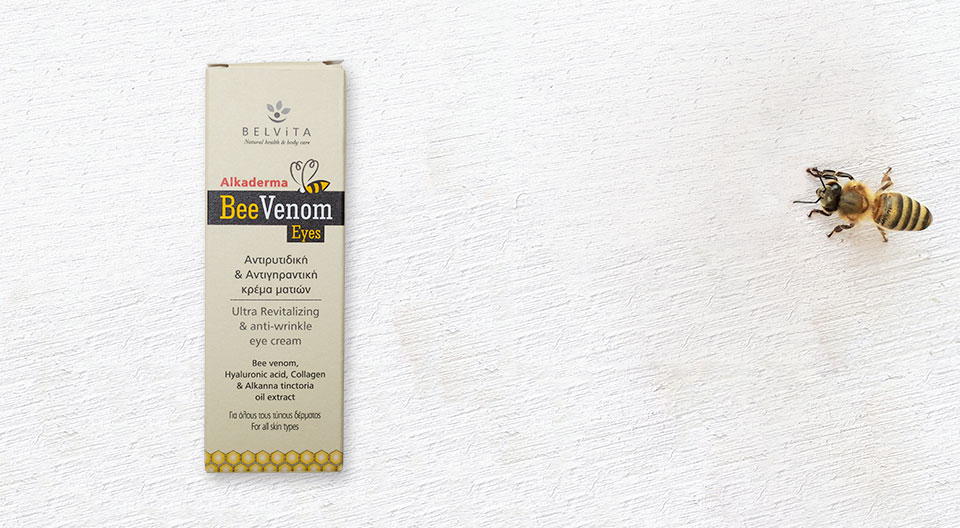 Active ingredients
Apitoxin (bee venom): its high concentration (300ppm) gives the "impression" to the skin, that it has been bitten by a bee. As a result, defense mechanisms are activated, blood flow is increased and the production of collagen and elastin is activated. Increased perspiration helps the skin to look instantly toned and radiant. In addition, the powerful combination of enzymes, peptides and amino acids such as melitin and apamin, hyaluronidase and phospholipase A2, encourages cell regeneration and the formation of new collagen fibers, repairs the skin, softens, blemishes and soothes fine lines and wrinkles.
Alkanna Tinctoria oil extract: it regenerates, offers deep hydration and stimulates collagen production thanks to its beneficial properties for the skin.
Collagen: it keeps the skin young making it look healthier and prevents premature aging, photoaging and the appearance of wrinkles on the face.
Hyaluronic Acid: offers deep hydration to the skin, elasticity, helps in the production of collagen and new cells and protects against aging. It regenerates tired, dehydrated skin.
Sweet Almond oil, Panthenol, Aloe Vera and Calendula: contribute to deep hydration and protection of the skin.
Method and frequency of application
Apply daily on clean and dry skin around the eye area with gentle circular motions for better absorption.
Precautions
Its use by people who are allergic to bee or wasp stings should be avoided. For external use only.
Packaging
Airless Bottle of 25gr ensures easy, safe and economical use. The natural ingredients are protected by air and light, thus avoiding the possibility of contamination of its content.